Name: Frost
Weapon: Sword
Looks: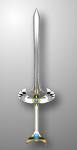 Materials: Soul Crystal, the material soul stones are made from. The blade, hilt, and guard are all white, being the Quartz kind of Soul Crystal.
Description: The soul of a warrior has been imprisoned in the sword he used, sworn to serve whatever Soul Blader leads the rest, until the Soul Blader who commands him releases him, or until his blade cracks. His name gives a hint to his power, as he uses powerful Ice abilities.
Abilities
Level 1 (Obsidian): Soul Transform: What Frost does to change into a sword. Indefinite time, can switch back and forth freely.
Level 2 (Ruby): Frost Slash: Frost uses his ice magic to deliver ice damage when an opponent is attacked with the sword.
Level 3 (Sapphire): Frost Needles: Frost uses part of his essence to launch numerous long, sharp needles of ice. Can be used outside of sword form.
Level 4 (Emerald): Frost aura: Frost exerts his magic to whatever his blade touches, freezing it. Can be used to freeze entire lakes, although that takes a tremendous amount of time and energy.
Level 5 (Aquamarine): Snow Barrier: Frost uses his magic to Protect the Soul Blader using him, causing a living flurry of snow to block all attacks. Cannot be used to attack.
Level 6 (Ether): Soul Freeze: Frost uses his magic to freeze an enemy's soul, Decreasing the level of the soul link and slowing down the physical body. Does no damage.
Level 7 (Diamond): Team up: Frost transforms into his Soul form, and fights using one of his current owner's weapons to fight along side him/her/it.
Creator: Maikeru
Current owner: Maikeru
Soul info:
Gender: Male
Personality: Frost believes that he was imprisoned unfairly, and because of that, all ways seems reluctant to help Maikeru (or current owner) when summoned. When he is summoned however, he fights with all his strength to abate the Geis (Pronounced Gaysh) on him, which causes him physical pain if he doesn't obey. He only uses his Team up ability with a Soul Blader he respects, and will often refuse to fight if the owner tells him to without him respecting him, regardless of the pain he could feel because of it. He is a secret womanizer, and when left to his own devices, wanders the town looking for pretty girls to flirt with, although if one gets serious he gets away because he is afraid of commitment. He enjoys frozen drinks, yet prefers to have everything he eats to be hot. He often taunts his enemies before attacking, and has a very sharp wit and a sharp tongue to match.
Looks:
Clothes: He wears a white hoodie and white jeans. His shoes are normal white tennis shoes. His hoodie is made of Cotton with a fleece core, while his jeans are made of plain cotton. His shoes are imitation leather, and have steel tips.