This is really just to show you my Char. Since I am head admin, my char is approved. Follow it's example.
Name: Maikeru Riengoddo
Nickname: None
Age: 18
Age you look: 17
Gender: Male
Height: 5'11'
Weight: 150lbs. Tall and lean build.
Looks:
Clothing: He usually wears a black cotton hoodie with grey lining. His pants are a cotton polyester blend that are usually black or blue. His shoes are normal leather. He wears glasses or contacts at all times. The contacts make his eyes look normal, so he usually wears that.
Personality: Maikeru takes his role as Academy leader very seriously, showing his responsible side. However he often finds ways to take breaks, either by training students, doing missions, or sneaking off. Although he has a troubled mind and a heavy heart, he often acts light and bubbly to keep people from knowing. He cares deeply for his Brother, Neko, and would give up the academy to save his life. He doesn't have many friends, nor did he before he became the Academy leader, but the few he has will tell you he is incredibly loyal and caring. He is often called cute because of his cat ears and tail, which he resents on the inside.
History:
Birth Ark: Maikeru's father was a Werecat named Josfua Riengoddo. Josfua was alone for 23 years of his life, until he met a woman by the name of Kairii Esteed. He fell in love with her at first sight, and hid his Werecat identity so he could court her. It worked. About one year after they met, Josfua and Kairii had a boy, which was Maikeru. Maikeru was only 1/4 cat, unlike his father, because his mother was a pure human. Because of this, he was born with the tail, eyes, and ears of a cat, without any of the powers werecats get. Kairii was horrified, and a mere month after his birth, Maikeru and Josfua were deserted by her.
Toddler/Child Ark: Josfua spent the next year raising Maikeru to the best of his ability. However, fingers of loneliness reached around his heart and had begun to squeeze, and he knew he needed to find a new Wife. Not just for him either, Maikeru needed a mother. The search didn't take long, as Josfua met a werecat named Kerushi, whom he soon married. Maikeru was only one, but he could walk and seemed to like her. The relationship stuck, and soon another baby boy arrived shortly after Maikeru turned two. This was Neko, who was a full werecat due to both of his parents being werecats. Maikeru instantly grew close to him, and for the next three years they were inseperable. At the age of five, Maikeru started to feel left out though, as Neko had started to show promise with his werecat abilities. This led to him seeking out a way to get attention. This search led him to find a soul stone, which he activated. Of course his parents took it away promptly, but were impressed. They enrolled him in a public school, making sure to teach him about Soul Blading on the side. This continued for 8 years.
School Ark: Once Maikeru turned 13, Josfua and Kerushi enrolled him in the Soul Blader Academy. The next three years seemed to go by in a blur, and he soon escalated into the Emeral rank. At this point, he took over a teaching position, a position given to him due to his great sucess with soul blading. As he increased in the ranks rapidly, he found himself stuck on the Ether rank. He felt he was missing something. At this time he was 17, and it was only 2 months after his birthday. He took a role as the Academy Leader's personal assistant for 3 months, then became Vice-Leader. It was then he found out that the current Leader was planning to wipe out the demons, a horrible act. "Demons are creatures who had a right to live, and as long as they don't bother us, we shouldnt have to bother them." Is what he said. The leader laughed and ignored him. Maikeru went to the Yanagi and told Her of his plot. The yanagi killed him, and appointed Maikeru leader of the Soul Blader Academy. Maikeru was stunned. However, at this point he was given Frost, and was finally able to achieve the diamond rank. Maikeru had Neko transfer to the Academy, and began his regimen as leader of the academy.
Leader Ark: Maikeru is Currently the leader of the Academy for Soul Reapers. He acts as the first in command and is the link between lesser soul bladers and the yanagi, as well as the liason to the witches and the demons.
Rp Sample:
Maikeru smiled. This was going to be fun. He brought out Grim, his trusty scythe of fire. As the scythe activated, the grass around him started to smoulder and burn, until only ash remained. He continued to apply the heat, burning more grass, and making the field, or should he say, the arena bigger. When a large enough are of grass had been burnt, he threw handfuls of grass seed everywhere, helping it to regrow. He even aerated the ground to soften the ground by sticking the blunt end of Grim's handle into the ground. He then leaned against a tree he had made sure not to burn, and sat under the leaves for a while. After enough time had passed, he stood up and walked to the center of the "arena" again. He could almost hear footsteps approaching, and for the sake of fun, pretended not to. As the footsteps got closer, they became louder, although they were still so quiet as to be barely audible. The footsteps got dangerously close, and as he turned around, a clawed hand wrenched his scythe away. He launched a kick which was soon blocked. Damn, he had gotten better. He launched a second kick, this one being grabbed by his attacker. The other hand then reached up and grabbed his throat. He could have easily dodged it, but he decided that his opponent needed the win. His opponent met his eyes for the first time.
"So what does this make, 5 to 3?"
"5 to 5," He answered, "We are even now."
And Maikeru and Neko started to laugh.
Soul Rank: Diamond Pebble cut
Soul Stones:
Name: Reaper
Type: Scythe
Weapon looks: A general scythe, It consists of a long Dark colored wood staff with a curved Steel blade extending from it. Despite the basic materials it is made from, it exudes dark energy.
Weapon Abilities: Reaper contains dark energy which Maikeru can use to launch crescent moon shaped energy blasts by swinging it. It is also very durable, and at high soul ranks can even seperate the connection between a Blader and his Soul Stone temporarily.
Weapon Specials:
Level 1: Crescent Reaper: Maikeru swings the scythe to cause a crescent shaped ray of dark energy fly out.
Level 2: Gattling Crescent: Same as Crescent Reaper, but 5 instead of 1.
Level 3: Spinning Crescent: Same as Crescent Reaper, but it spins, making it last longer and do more damage.
Level 4: Soul Scream: Maikeru swings the scythe at high speeds to attack with sound waves.
Level 5: Soul Slasher: Maikeru attacks a persons soul rather than their body, doing damage to the weapon.
Level 6: Soul Seperater: Maikeru can use Reaper to seperate the connection between the Blader and the Soul Stone, causing the weapon to revert to stone form.
Level 7: Soul Reaper: Needing a perfect connection, this temporarily seperates a blader/monster/witch's soul from its body.
Current Owner: Maikeru Riengoddo, Creator.
---------
Name: Grim
Type: Scythe
Looks:
Description: A somewhat more complex Scythe than Reaper, Grim uses the essence of fire rather than the essence of Darkness. Maikeru Rarely uses it, and when you see him pull it out, he is gearing up to do some serious damage.
Abilities:
Level 1: Flame Ripper. A Basic attack coupled with fire damage.
Level 2: Flare Cutter. A wave of fire in the shape of Grim's Blade is sent out when swung.
Level 3: Magnum Cutter. Same as Level 2, but much, much bigger.
Level 4: Double Edge. A blade Extends from the back of the Scythe, forming a double edged scythe. Lasts 5 Posts. 1 Post recharge
Level 5: Witch Hunter. A move long used by Scythe Soul Bladers, This move is the same as level 4, but uses soul power to be incredibly effective against Witches.
Level 6: Soul Hunter. Essentially the same as Witch Hunter, except instead of damaging the opponent, they damage the opponent's soul. Really effective against Witches.
Level 7: Underworld Fire. An attack that opens up a doorway to Heck or any other place The user decides. Useful for teleporting. And for sending the eternal souls of your enemies to Heck, literally. Teleporting to Heck requires a Maxima Connection, not currently availible.
Owner: Maikeru, Creator.
-------
Name: Shimei and Shukumei (Fate and Destiny)
Weapon:Twin Daggers
Rank: Ether
Looks: Shimei and Shukumei are identical. Each has about a 8" long handle, with a 4" long guard. The Blade is slightly curved, and is about 1' in length. The Blade is 2" wide and .3" thick on the Blunt end. They are Held backwards, blades pointing back.
Materials: The blade is made of Tempered Steel with a silver plating, and a rod from it extends into the handle. The handle and guard are made of Simple Iron with a gold plating. The Hilt is wrapped in leather Straps.
Description:These twin daggers allow for quick attacks without much weight or manuvering. These daggers also contain the ability to assume a random element, chosen by the Elemental Dice.
Abilities
Level 1 (Obsidian): Speed Boost: Increases Speed by 2x for 10 posts. 3 Post Cooldown.
Level 2 (Ruby): Elemental Roulette: Uses the element die to apply a random element for 10 posts. 5 Post cooldown.
Level 3 (Sapphire): Elemental Slash: Uses the element from Level 2 to launch a crescent wave attack.
Level 4 (Emerald): Flash Step: Increases Speed to such a level as the naked eye cant follow, giving him the illusion of teleporting. Can only be used for one Post, with a 1 Post cooldown.
Level 5 (Aquamarine): Elemental Kunai: Creates 5 Throwing daggers from the element chosen by Level 2 and throws them at the opponent.
Level 6 (Ether): Elemental Storm: Uses the element from Level 2 to launch a large scale elemental attack that varies depending on the Element.
Level7 (Diamond0: Elemental Megido: Randomly selects an element (by the element die) and launches a powerful explosion of that element causing massive damage that is nearly unavoidable. Perfect link required.
Creator: Maikeru Riengoddo
Current owner: Maikeru Riengoddo
-------
Name: Frost
Weapon: Sword
Looks: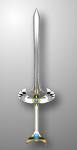 Materials: Soul Crystal, the material soul stones are made from. The blade, hilt, and guard are all white, being the Quartz kind of Soul Crystal.
Description: The soul of a warrior has been imprisoned in the sword he used, sworn to serve whatever Soul Blader leads the rest, until the Soul Blader who commands him releases him, or until his blade cracks. His name gives a hint to his power, as he uses powerful Ice abilities.
Abilities
Level 1 (Obsidian): Soul Transform: What Frost does to change into a sword. Indefinite time, can switch back and forth freely.
Level 2 (Ruby): Frost Slash: Frost uses his ice magic to deliver ice damage when an opponent is attacked with the sword.
Level 3 (Sapphire): Frost Needles: Frost uses part of his essence to launch numerous long, sharp needles of ice. Can be used outside of sword form.
Level 4 (Emerald): Frost aura: Frost exerts his magic to whatever his blade touches, freezing it. Can be used to freeze entire lakes, although that takes a tremendous amount of time and energy.
Level 5 (Aquamarine): Snow Barrier: Frost uses his magic to Protect the Soul Blader using him, causing a living flurry of snow to block all attacks. Cannot be used to attack.
Level 6 (Ether): Soul Freeze: Frost uses his magic to freeze an enemy's soul, Decreasing the level of the soul link and slowing down the physical body. Does no damage.
Level 7 (Diamond): Team up: Frost transforms into his Soul form, and fights using one of his current owner's weapons to fight along side him/her/it.
Creator: Maikeru
Current owner: Maikeru
Soul info:
Gender: Male
Personality: Frost believes that he was imprisoned unfairly, and because of that, all ways seems reluctant to help Maikeru (or current owner) when summoned. When he is summoned however, he fights with all his strength to abate the Geis (Pronounced Gaysh) on him, which causes him physical pain if he doesn't obey. He only uses his Team up ability with a Soul Blader he respects, and will often refuse to fight if the owner tells him to without him respecting him, regardless of the pain he could feel because of it. He is a secret womanizer, and when left to his own devices, wanders the town looking for pretty girls to flirt with, although if one gets serious he gets away because he is afraid of commitment. He enjoys frozen drinks, yet prefers to have everything he eats to be hot. He often taunts his enemies before attacking, and has a very sharp wit and a sharp tongue to match.
Looks:
Clothes: He wears a white hoodie and white jeans. His shoes are normal white tennis shoes. His hoodie is made of Cotton with a fleece core, while his jeans are made of plain cotton. His shoes are imitation leather, and have steel tips.
-------
Name: Grim Reaper
Weapon: Scythe
Rank: Ether
Looks:

Materials: Very cold steel and wood.
Description: The fusion of Reaper, Grim, and Frost. This is created when Frost has Grim activated, and Maikeru has Reaper activated, then Frost turns into his weapon form. This fuses all three weapons into a super powered version of all three.
Abilities
Level 1 (Obsidian): Tri Fusion: The skill used to create Grim Reaper
Level 2 (Ruby): Frost Ripper: Maikeru slashes with a powerful ice attack, instantly freezing anything it touches, although only by a small amount.
Level 3 (Sapphire): Grim Shards: Maikeru Slashes once with Grim Reaper, sending shards of ice towards his opponent.
Level 4 (Emerald): Frozen Death: Maikeru Slashes once, and anything it hits is trapped in a block of ice, which shatters, doing damage.
Level 5 (Aquamarine): Frozen Demise: A more powerful version of Frozen Death that can be used on multiple enemies.
Level 6 (Ether): Death Chill: Cold air rapidly escapes from the scythe at all times, causing fire attacks to decrease in power and enemies to slowly freeze.
Creator: Maikeru
Current owner: Maikeru
-------
Name: Hurricane
Weapon: Bow
Rank: Diamond
Looks:

Materials: Solid oak with white paint, steel grip with silver plating.
Description: A powerful bow that can shoot Maikeru's soul energy mixed with wind in the form of arrows. Since the ammo depends on Maikeru, if used correctly, Maikeru does not need to worry about running out. The edge of the bow has a small blade on it, making it as good of a melee weapon as a ranged weapon.
Abilities
Level 1 (Obsidian): Wind Arrow: The skill used to make arrows from the soul force of the user and wind.
Level 2 (Ruby): Split arrow: The user launches an arrow into the air, where it splits off into three arrows.
Level 3 (Sapphire): Multi Arrow: Same as Split arrow, but it splits into 10 and can be used horizontally.
Level 4 (Emerald): Force arrow: The user fires a Multi arrow strait into the air, and catches the 10 arrows that come down, fusing them into one, powerful arrow that they then fire.
Level 5 (Aquamarine): Arrow rain: A powerful version of Multi arrow, this is where two arrows are fired at once. They knock together and start spinning in the air. The user than fires another arrow into the other two to cause it to split into 10. This can be shot again and again allowing for a very large number of arrows to rain down on the enemy.
Level 6 (Ether): Force Rain: Same as arrow rain, but the 3 arrow and onward are all force arrows, making them that much more powerful.
Level 7 (Diamond): Perfect Shot: A perfectly accurate arrow that hits an enemies weak point. Cannot miss and can easily be a 1-hit KO if used correctly.
Creator: Maikeru
Current owner: Maikeru
----------
Name: Gaia
Weapon: Spellbook
Rank: Diamond
Looks:
Materials: Leather bound papyrus pages. Tarnish on the cover and ink on the pages.
Description: A spell book who uses earth and light magic to attack. Maikeru can read from it to cast the spells.
Abilities
Level 1 (Obsidian): Rock Spire: A large pillar of rock erupts from the ground. Can be used to damage enemies or to lift the user into the air.
Level 2 (Ruby): Holy Arrow: An arrow shaped bolt of light magic is fired at an enemy, useful against undead or ghost enemies.
Level 3 (Sapphire): Stone Tomb: Four slabs of rock rise from the ground, trapping an enemy in a box, then a slab falls from the top, crushing an opponent. The four walls are sturdy, but the one that falls is rather brittle.
Level 4 (Emerald): Holy Sword: A sword made of Light energy is created, and attacks on its own, allowing for attacks not availible with a normal sword.
Level 5 (Aquamarine): Thorn Snare: Vines leap from the ground and grab and enemy. When the enemy is secure, it grows thorns about 1" long, which stick into the opponent. Useful for both damage and making the next attack sure to hit.
Level 6 (Ether): Holy Bomb: An oxymoronic attack that gathers light energy into a fixed point (such as an opponent) then explodes it outward, doing massive damage.
Level 7 (Diamond): Living Eruption: An elemental dice is rolled, if it lands on Earth, a massive earth attack occurs. If it is light, a much more powerful Holy bomb occurs. If it is any other element, the skill fails.
Creator: Maikeru Riengoddo
Current owner: Maikeru Riengoddo